(G.N.S) Dt. 17
Gandhinagar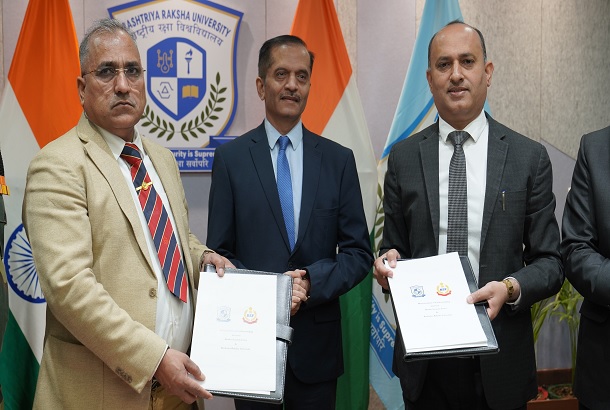 The Rashtriya Raksha University and Border Security Force signed a Memorandum of Understanding in an official event held at RRU Campus in Lavad – Gandhinagar, Gujarat on 16th January, 2023.
The broad aspects of the MoU are to synergize the expertise of RRU with the aim and to focus on Training, Academics, Research, Extension and Consultancy towards security aspects for the BSF personnel.
This collaboration between RRU & BSF will replicate the RRU-NSG / RRU-Delhi Police model under which the Affiliation and Accreditation Guidelines of the University played a pivotal role and finally led to a Diploma being awarded to the NSG officials and PG Diploma being awarded to Delhi Police Officials. The Joint certification mechanism will assist in supplementing the skills, knowledge and core competencies of the BSF Personnel. An assessment tool will also be developed overtime which will help in continuous monitoring of the training modules being delivered to the security professionals.
"RRU will become a global leader in training, education and research in areas related to police, correctional administration and security by the year 2047 by the Government of India". RRU has been honored with the coveted title of the Jewel of the Nation for the Sashakt Bharat by Shri Narendra Modi, Hon'ble PM. This MoU will not only help the core organization but also the non-core sectors such as BSF Wives Welfare Association (BWWA) with the possible avenues" says Prof. (Dr) Bimal N Patel – Vice Chancellor of the University.
The Border Security Force Delegation led by Raja Babu Singh, IPS – Inspector General of Police, Training, BSF Hqrs, New Delhi along with three BSF Officials visited RRU for signing the Memorandum of Understanding in midst of the Vice-Chancellor and other Senior Officials of the University. 
"This new journey of BSF with RRU on accreditation, innovation, research and incubation will enhance the skills of BSF personnel and vice versa for the University dedicated towards National Security which is considered to be the Jewel of our Nation. Our journey together will sketch out new horizons and ground-breaking innovations. Progress is assured when the people involved are unwavering in the pursuit of the common aim" says Raja Babu Singh, IPS – IGP Training, BSF Headquarters, New Delhi.
"The joining of hands by two institutions dedicated to the cause of National Security with a similar motto will be a significant development towards strengthening the security architecture of the nation and I convey gratitude to all the Board of Officers from BSF and University officials who were working towards this development from day one" says Dr. Akshat Mehta, University Dean in his concluding remarks.
The dignitaries present from BSF were Pankaj Kumar, Commandant, BSF Academy Tekanpur, Pramod Kumar Agrawal, Commandant, 194BN, Ftr. Hqrs, Gujarat, Brajesh Kumar Singh, 2IC – Training, BSF Hqrs, Pro Vice Chancellor, Registrar, Deans and School Directors of the University.